Powering Investment Operations Regardless of Market Conditions for 25 Years
For more than 25 years, small start-ups and large institutions alike have trusted SS&C Eze to power their investment operations. We take trust seriously and have a long track record of delivering on our commitments. That is why it is so important to us that our clients can rely on us to continue to deliver the innovative technology and superior client service they have come to expect from SS&C Eze, regardless of market conditions.

Here's a look at how we do this:
Continued Innovation: Agile Teams Keep Roadmap and Releases on Track
SS&C Eze's R&D teams are made up of more than 400 innovative product and technology experts whose agility and hard work ensure product roadmap development continues in full force across all platforms and releases remain on schedule, no matter what.

Service and Support: Exceptional Client Service Is A Top Priority
At SS&C Eze, our support and service teams consist of 500 professionals – experts in working with our users – who have a deep understanding of workflow needs and a sense of urgency in delivering client solutions. This allows them to continuously deliver the high level of service and support our clients have come to expect from SS&C Eze.

System Accessibility: Trade Securely from Anywhere with SS&C Eze's Cloud-Deployed Platforms
Demand for and dependence on cloud and mobile technology is at an all-time high. Users want the technology they operate on to be delivered quickly, updated regularly, accessible regardless of where they are located, and highly secure.
From SS&C Eze's cloud native platform, Eze Eclipse, to Eze Investment Suite, which can be deployed via the private or public cloud, all SS&C Eze solutions are cloud-enabled as well as accessible on the go with the next generation Eze mobile app. Additionally, with 27001 certifications ISO 27017 Cloud Security and ISO 27018 Cloud Privacy, you can rest assured that your platform is secure, no matter where you are working from.

People Power: It All Comes Back to Our Teams
Of course, none of this would be possible if it weren't for our spectacular SS&C Eze teams. It is their adaptability and ability to make timely adjustments that allow SS&C Eze to continue product roadmap development, release regularly scheduled updates, and provide the high level of service and support our clients have come to expect, regardless of the circumstances.
How do we build successful teams?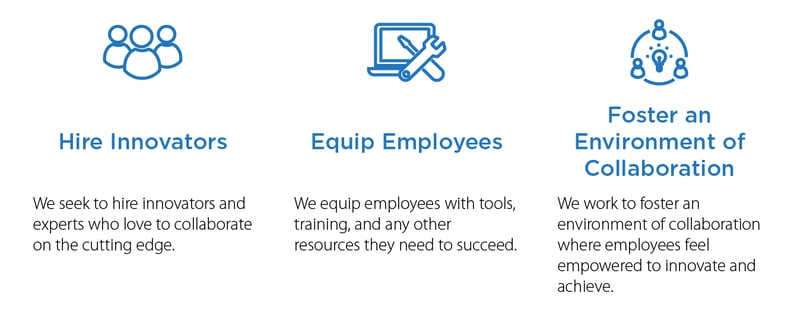 Operational Resilience: Keeping Our Business Up & Running
We place the highest value on providing reliable, first-rate service to our clients under all circumstances and have invested time and resources into developing infrastructure and service practices that enable us to quickly recover from disruptions.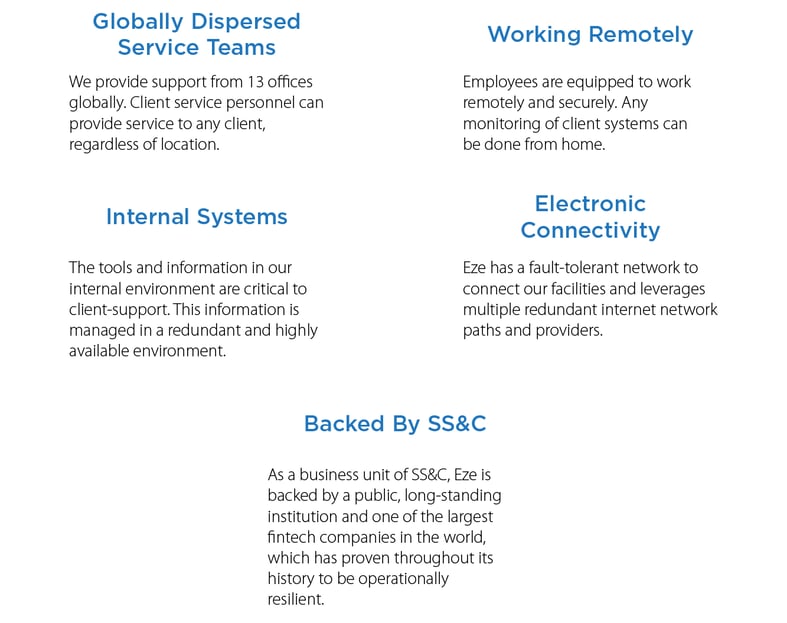 If you're interested in powering your investment operations with SS&C Eze, explore which solution may be right for you, or reach out. And to stay up-to-date on the issues that matter most in the investment management community, subscribe to our blog and newsletter.