Eze Marketplace
Eze Marketplace is the fast and easy way to extend your Eze platforms and solve your business challenges quickly. Eze Marketplace gives you plug-and-play access to a rapidly growing menu of ready-to-enable solutions directly from SS&C and other trusted partners. Quickly find turnkey apps and other solutions for risk, market intelligence, data visualization, workflow controls, chat, transaction cost analytics, and more.
Seam-free User Experience
Powered by a secure, real-time data sharing architecture, Marketplace Solutions are directly embedded in your Eze platform for a seam-free and truly end-to-end investment experience.
Solve Business Challenges Quickly
Thanks to a plug-and-play framework you can discover and add Marketplace Solutions directly from your Eze platform and start using them almost instantly.
Endless Possibilities
Discover new apps and solutions with a rapidly expanding menu of Marketplace Solutions.
Trusted, Proven, and Secure
All Marketplace Solutions are certified by Eze and comply with Eze's rigorous security and risk programs including extensive testing and due diligence. Backed by Eze's ISO 27001 certification, you'll always know your data is secure.
Expand the capabilities of your Eze platform and improve your overall efficiency.
Unify Your Systems
Unify your tools, teams, processes, and data through a single, connected system – your Eze platform.
Harness the Power of Your Data
Harness the power of your data across more capabilities with deeply integrated solutions that interact directly with your Eze platform.
Save Time & Minimize Risk
Save time on vendor evaluation and due diligence while still minimizing risk to your firm - marketplace partners are pre-qualified.
Simplify the Buying Experience
Simplify the buying experience and eliminate time-consuming negotiations with competitive and transparent pricing on ready-to-enable solutions.
Discover Tools & Take Advantage Instantly
Discover new tools, apps, and services from a rapidly expanding menu of Marketplace Solutions and start taking advantage of them almost instantly.
Design a Unified & Customized Investment Experience
Design a unified investment experience and fully customize your workflows by mixing-and-matching any combination of Marketplace Solutions onto your Eze platform.
Are You Looking to Become a Marketplace Partner?
Powered by a secure, real-time data sharing architecture, the Eze Marketplace framework enables developers to build solutions that are deeply embedded and interact directly with SS&C Eze platforms. Share your solutions with thousands of buy-side users on Eze Marketplace. Contact us to learn more.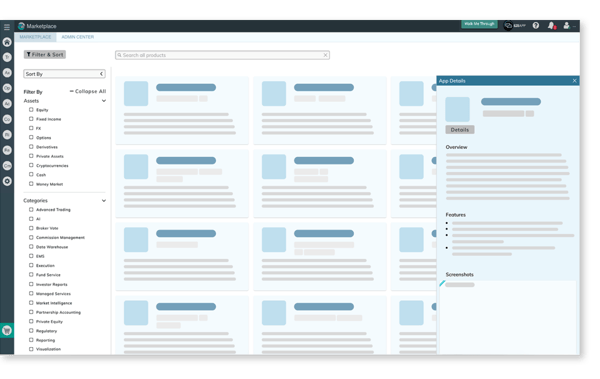 Access an online store of ready-to-enable apps and other solutions
Learn how you can solve the challenges your firm faces fast with plug-and-play access to investment management apps and other solutions.