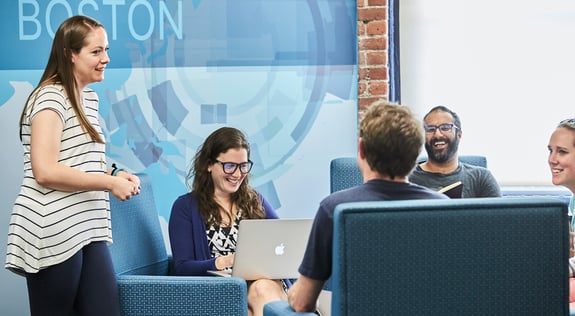 About SS&C Eze
Eze began with a vision that emerging technology could help bring trading operations—and people—closer together.
A PARTNER YOU CAN TRUST
1,900+ Global Asset Managers Rely On SS&C Eze
SS&C Eze is helping 1,900+ global asset managers transform their investment process to optimize operational and investment alpha and grow their business. We deliver cutting-edge cloud, mobile, and on-premise solutions to maximize efficiencies across trade order management, execution, compliance, commission management, portfolio accounting, and investor accounting.
From start-up and emerging funds to the most recognized and established institutions, SS&C Eze has provided buy-side firms with innovative and award-winning technology solutions backed by unparalleled client service for 25 years.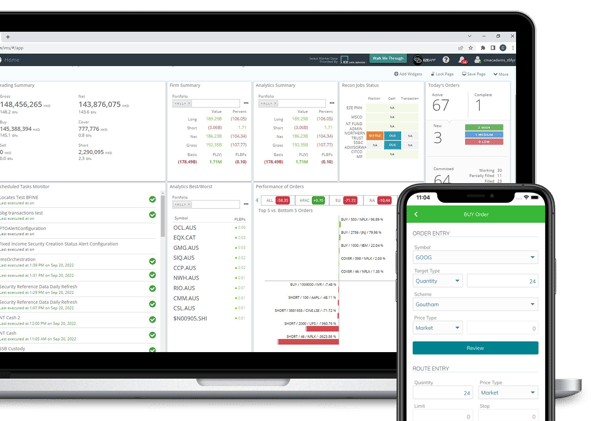 $1T
+
More than one trillion AUM
190K
+
Trades executed daily
A Proven and Trusted Provider
Headquartered in Boston and 13 locations worldwide

Employs 1,050 people including 400 innovators

45% of employees are dedicated to service and support
Used by 1,900 buy-side firms in 45 countries

750 ready-to-trade liquidity options

Maintains ISO 27001 certification, including ISO 27017 and ISO 27018 for Cloud Security and Cloud Privacy
Driving Innovation for More Than 25 Years

SS&C Eze began with a vision that emerging technology could help bring trading operations—and people—closer together. If there was a fluid way to work and to hand off trade order information across departments, smoothly and seamlessly, financial operations could flourish.

So, in 1995 Founder Sean McLaughlin quit his job as a financial analyst and trader to pursue ways to automate order management; a task previously left to mountains of paper and repetitive labor. And Eze Castle Software was born.

The right tools in the hands of the right people means a solid foundation for growth

Within six months, the first version of the software—an automated order management system (OMS)—was ready for market. And things grew quickly from there. Eze Castle's OMS enabled companies to automate their allocation process and move from faxed trade confirmations to electronic files. This eliminated an error-prone manual process and created huge gains in productivity. And opportunities to grow for both Eze and its clients.

Best in Class from Front to Back

With a keen emphasis on delivering the best for clients and a strong belief in perfecting a single system for front, middle, and back office, Eze soon acquired best-of-breed capabilities through mergers with complementary companies. By putting together the collective experiences of teams from Eze Castle Software, RealTick, and Tradar, the newly created Eze Software could now deliver a seamlessly integrated, truly transformational investment platform.

Solutions Built for Growth

In 2018, Eze Software was acquired by SS&C, expanding on our vision of a complete front-to-back technology solution and bolstering our offerings with additional outsourced services.

Now part of SS&C, SS&C Eze is spreading to more clients across more financial concerns than originally dreamed possible. It's a platform built for growth in whichever direction investment opportunities are headed.
SS&C Eze works at the cutting edge of technology to deliver integrated, innovative investment management solutions—and we'll partner with you as a platform for growth.
Why do clients choose SS&C Eze?
We're your partner, not just another vendor.
Providing an exceptional client experience is our top priority. We strive to work as part of your team. This unique, partnership approach sets us apart from other vendors.
We provide the most innovative and complete front-to-back solutions.
Our products are consistently ranked best-in-class and we've been an industry-leader for 25 years because we invest in them. The size, scale, and capacity of our R&D team is unmatched.
We have the expertise and experience.
We've been automating the investment process since 1995. We understand the complexities of how asset managers do business. No other provider can claim the same level of experience or expertise.
We're a partner you can trust.
We have a long track record of delivering on our commitments. We take trust seriously. We uphold the most rigorous compliance and security standards and have been ISO-certified since 2017.
We're part of SS&C.
As part of SS&C, we're backed by one of the largest global technology companies. Together, we provide an extensive menu of products and services to curate the perfect solutions for your needs.
SS&C Eze is an investment in your future.
Our flexible and scalable infrastructure can support your firm at any phase of growth. We are a partner for the long-term, committed to helping you grow and offer you the technology to get you there.
Find SS&C Eze Offices Around the Globe
Headquartered in Boston, MA with 13 locations worldwide.