How SS&C Eze's Service & Support Teams Maintain Quality Service in Uncertain Times
I recently participated in my first virtual marathon. In a virtual marathon, you sign up online, run the 26.2 miles on your own, and post your results to the web to see how you stack up against the competition.
As I often do following a race, I reflected on my performance. Obviously, the experience of preparing for and running a virtual race was quite different than the ones I am used to, and, in many ways, it required that I be even better prepared. Because I knew I wouldn't be able to derive energy from the crowds or my fellow runners, prior to my run, I was extra conscious about getting the nutrition and rest my body needed, and, right before, I took the time to temper my nerves and find motivation in creative ways, such as participating in a virtual national anthem, taking water stops at friends' homes, and reading text messages of encouragement.
For many of us, this current situation feels a lot like a marathon. At SS&C Eze, we spent the majority of Q2 working from home. During this time, we experienced record trading on our platforms and record call volumes to our service and support teams. As we approach the end of this unprecedented quarter, I wanted to take some time to reflect, similar to the way I did after running my virtual marathon, on the ways we at SS&C Eze, and particularly our service and support teams, prepared for, handled, and continue to navigate the marathon that is the COVID-19 crisis, as well as some of the positive effects that have arisen as a result of this time spent working from home.
A Plan in Place
As a service organization, we strive to offer accessibility and knowledge by being a strong point of contact for our clients. To ensure we are always prepared to do so, SS&C Eze has a business continuity and pandemic response plan in place, which we test annually.
Although in North America, where I am located, the coronavirus situation really picked up in March, our offices in the Asia-Pacific region have been dealing with the crisis since January. Ongoing disruption caused by protests, as well as regular preparation for typhoon season, allowed our Hong Kong and other offices in the area to make a quick transition to work from home, despite the sudden onset of the disease.
Using their success as a guide, our other offices conducted additional infrastructure tests and work-from-home planning to ensure we were ready to run our operations remotely. This preparation allowed us to transition seamlessly to a remote work environment and thus be ready and available to assist as clients made their own transitions.
Adaptive Teams
In a recent blog post, Edward Bee, Managing Director APAC, discussed how the scalability, accessibility, and adaptive nature of our platforms positioned us favorably to handle a crisis situation like the coronavirus. Throughout increased trading volumes and market volatility, SS&C Eze's systems performed well.
From our cloud native platform, Eze Eclipse, to Eze Investment Suite, which can be deployed via public or private cloud, all SS&C Eze solutions are cloud-enabled, a capability most clients utilized prior to transitioning to work from home. However, no one could have foreseen the entire workforce needing to operate remotely at once. During those early weeks in March, as many firms seemingly simultaneously made the quick transition, SS&C Eze's service and support teams saw an increase of upwards of 60% in daily case and call volume largely driven by clients looking to add new asset classes to adjust to market conditions or looking for help adjusting to a remote work environment. To serve our newly remote client base better, our service model was forced to stretch and adapt.
One way we did this was by identifying levers around us that we could pull when things were not what we expected. We are fortunate at SS&C Eze to have product experts across the organization who, when we faced spikes in call volumes throughout March, were able to step in and assist. This depth of our service organization made it so the increased volume did not negatively impact our clients or organization.
It is thanks to the adaptability and timely adjustments made by our teams that SS&C Eze has been able to maintain the high level of service and support our clients expect, despite the difficult situation. It is no accident that our recruiting processes seek out these specific traits, which have helped foster the adaptive, resilient nature of our people.
Prioritizing Communication
Although the COVID-19 pandemic changed a lot, at SS&C Eze, our priorities have remained steadfast, and providing an exceptional client experience has always been a top priority.
In the early days of the pandemic, when things were changing quickly, we established a webpage for clients to access real-time notifications and updates on how we were approaching the crisis, and Mike Hutner, Senior Vice President, General Manager at SS&C Eze, sent out regular email communications to ensure everyone stayed informed. On a more personal level, our support teams immediately transitioned in-person account reviews to Zoom and scheduled additional check-in calls just to see how clients were adapting, and ask if there was anything they needed from us.
In a time of change and disruption, clients greatly appreciated not just the continuation in service, but the availability of the information they needed and the proactivity from our teams in addressing their current and potential future needs.
Through it all, one of our biggest concerns with all the change was that communications would be lost or misinterpreted. To prevent this, we made it a priority to follow up on each conversation with an email or phone call to make sure everyone was on the same page – a practice we found to be highly effective, and one we plan to continue.
Maintaining a Sense of Community
Internal communication has also proven vital to our success in serving our clients as we navigate the coronavirus situation. Years of leadership experience, including my current role as Managing Director, Global Solutions, has taught me that during challenging and unsettling times, it is easy to feel disconnected, especially when you operate as a member of a team as large as our Global Solutions team, which has about 150 members, and working from home can only serve to widen this disconnect. Thus, throughout the pandemic, leadership at SS&C Eze has increased the number of check-ins or scrums our teams participate in in order to keep employees feeling connected, engaged, and productive.
Similarly, because we are not next to one another, there has been a purposeful and deliberate attempt at maintaining culture, including weekly spirit days, daily workouts, wine tastings, a platform for parents to share resources about working from home with children, weekly newsletters from our employee resource groups (ERGs), the creation of new ERGs, and the list goes on.
The genuine support of each other and the sense of community that I have witnessed at SS&C Eze over the past couple months is what first attracted me to SS&C Eze 17 years ago and is proving to be more important now than ever before.
Discovering New Communication Tools
Each one of us has been challenged during this time. For some, it was the struggle of adjusting to remote work. For others, it was facing limited access to child or pet care, missing loved ones, or simply the stress of navigating a global pandemic. However, at SS&C Eze, we have seen some positives arise as a result of this time spent working from home, including improved collaboration, communication, and productivity, as well as an increased understanding of our clients.
Collaboration is a major component of the SS&C Eze culture, one that sparks innovation that not only benefits our clients but our employees and surrounding communities as well. And although we will always value in-person interaction, we have found that being forced to adapt to a virtual work environment has actually broadened, rather than limited, the ways in which SS&C Eze employees are able to work together.
Throughout this experience, folks have been more open-minded about using new tools and strategies for collaboration that they may not otherwise have thought of or taken the initiative to try. These methods of communication also provide a great opportunity for some remote team members to feel more active in the conversation. This has improved existing channels of communication and opened up new ways to collaborate both internally and with clients. As a result, communications seem stronger than ever before, and people seem more in the loop on the day-to-day. We look forward to continuing to utilize these new tools and strategies to make us even more effective once we are back in the office.
Maintaining Productivity
Let's face it, distractions abound at home. As the parent of a 7-year-old, I am all too familiar with the juggling act required to keep up with work responsibilities while also acting as math, writing, and reading teacher, and dodging balls, frisbees, paper airplanes, and any other harmless projectile thrown my way.
However, despite the distractions that many of us face at home, as well as the perceived limitations of not being in the office with our teams, our employees have been incredibly productive. We have found transitioning in-person meetings to video conferencing (something some clients may not have embraced so readily as little as 3 months ago), saves time and is a great alternative when travel isn't feasible.
Increased Implementations
Implementations have also picked up during this time. Now that the initial shock of facing a global pandemic has subsided, market volatility has died down a bit, and most of us have gotten fairly comfortable with our remote work situation, our teams have found that the key stakeholders critical to implementations are actually more available during this time than when they are in the office. This has helped expedite remote implementations. Because of this, our Eze Eclipse teams have had brought live a record number of firms, 32 year-to-date, with 2 more in the final stages of implementation, despite working from home for the majority of Q2.
At SS&C Eze, we are always working to better understand and connect with our clients. However, working in partnership with our clients throughout this time has brought us closer than ever before and given us an even better understanding of and appreciation for our clients. The mutual struggle that we have faced has created a personal connection that didn't necessarily exist previously, one that has allowed us, as humankind, to realize the true value of our connection.
I continue to be impressed by our service and support teams, as well as all the teams across SS&C Eze. They have been adaptable and continued to do great work throughout the coronavirus crisis. It is thanks to them that SS&C Eze has remained fully operational and able to continue product roadmap development, regularly scheduled releases, and provide the high level of service and support our clients have come to expect.
No one is sure how close the COVID-19 marathon finish line is, and, at times, it can seem difficult to keep going. However, when you reach the finish line of a marathon, whether real, virtual, or metaphorical, you often realize that the past 26.2 miles have made you stronger. My belief is that SS&C Eze will finish this marathon a stronger organization. And our service and support teams are here to ensure that our clients do the same.
We are here to help! Our teams are here and always ready to help. If there is any way that we at SS&C Eze can help you, please do not hesitate to reach out. You can find the latest information about how SS&C Eze is handling the coronavirus here. 
Interested in becoming a member of the SS&C Eze team? View our Community & Culture page or check out open positions here.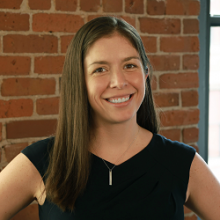 Kathryn Mendes
Kathryn Mendes is the managing director of global solutions at SS&C Eze. She oversees a team of more than 150 employees worldwide that serve as the primary point of contact for clients and provide product and technical expertise to answer inquiries, troubleshoot, and investigate and resolve production support issues. Kathryn joined SS&C Eze in 2003 and has held several leadership positions within client service. She is active in Eze's Mentor Program and serves as a leader on several of the company's employee resource groups, including the Community and Culture Committee and The Network, SS&C Eze's leadership development program for women. Kathryn graduated from the College of the Holy Cross, where she earned her B.A. in Mathematics.