As we close out SS&C Eze's 25th year, we find ourselves reflecting on where we started — a buzzing start-up that used a "chore wheel" to assign office housekeeping — and reminiscing on many fond memories from the years since, all of which have helped shape Eze into the award-winning global provider we are today and part of SS&C, one of the leading technology companies in the world.
After a challenging year, it can be easy to forget how lucky we've been. And so, in the spirit of gratitude, we asked some of our longest serving teammates to share some of their fondest memories and favorite things about Eze:

The Early Days of Eze:
"In the early days, we would put away the dishes, stock the shelves with food, water the plants, and stock the soda machines as part of our 'Chore Wheel' duties. You did anything and everything to help Eze."

- Greg Hall, Senior Database Administrator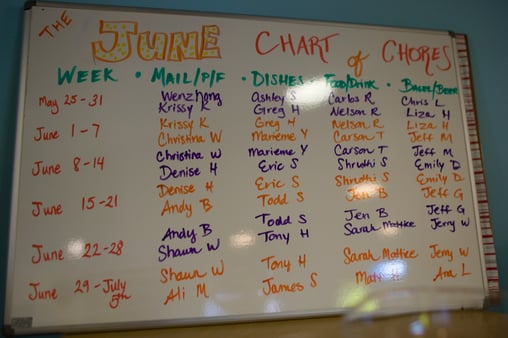 ​
The infamous Eze chore chart.
"I started as an undergrad intern in 2000 at RealTick LLC in Chicago (which was acquired by Eze in 2013). The business had a bit of a 1990s startup feel (and that shared culture was an important factor in the acquisition). RealTick was privately owned by the founders, 100 employees, very casual, incredibly innovative and risk-taking, fast-paced and chaotic, and a family atmosphere. I was the firm's first-ever intern. I found the job completely randomly - my father was a union carpenter foreman, and his firm was building out the Chicago office and data center (the same space we are in today). I was on Spring Break from college and liked to visit him on his job sites. While visiting, the VP of the firm (the only employee there at the time) noticed me and asked me what I was doing on his construction site. I told him I was visiting my father to observe his work. We got to talking, he learned I had some basic IT experience, and he offered me $10 an hour to build and rack servers and run office errands. I took out the mail, fetched lunches and coffee, installed software and racked servers, and learned so much."

- Mike Pecak, Managing Director, Americas Client Service
"I started out in the QA program when I was 22, right out of college. Like most entry-level roles, the work wasn't super interesting, but we had a blast doing it. The QA lab was segregated from the rest of the 5th floor, so there were about 20 22-year-old kids in a room together all day...shenanigans ensued."

- Raya Gabry, Director, Product Management
"My first job was working on the Chicago Options Exchange trading floor in the open-cry pits. We were trained to use printed sheets of theoretical options prices and adjust in our heads during the day based on previously traded options. I saw other traders that had handheld computers with software that could make markets for them. I quickly realized I wanted to get into the software side of trading technology and found Eze. I started in the QA department learning the software in a small brick room in our Boston office with about 10 others. We learned in a fun environment under Dan Gavin, and I really fell in love with the culture of the company then."

- Arno Yurk, Director of Client Service Operations
What's Kept Us Here Through the Years:
"The company has changed a lot over the years, but what has been constant has been the excitement I feel from working in this industry, where good ideas and fast/efficient software are valued and rewarded by our customers, and we each have the power to make enormous contributions to our customers and the industry."

- Derek Gover, Director, EMS Development
"My direct line of management has kept me put. Excellent people, managers, and leaders. Then when the pool table was added to the office, it was the pool table as well."

- Jonathan Baldeon, Principle Product Solutions Engineer
"I love my job and that every day brings with it a new challenge. But more than anything it's the people. I joined the company when there were only a few hundred employees. While the company has changed, and the team has grown to more than 1,000, the caliber and character of the people hasn't diminished. It's incredibly motivating to be surrounded by talented, passionate, creative, and hard-working people every day (whether it's in person or virtual!). I've met some of my closest friends through Eze and am still in touch with former managers and colleagues that have left the company."

- Meghan Rocha, Head of marketing
"There are several [reasons I've stayed]! Opportunities to learn new things. Freedom, support & encouragement to explore things outside of your 'core' responsibilities. My colleagues & 100% support from my managers along the way."

- Maxine Dye, Principal Technical Writer
"Change and dynamic projects. I like to say that this is Eze 5.0 for me, in a good way. The culture has evolved to have more structure and allow for many more areas of specialty."

- Ameer Ali, Director, Solution Architect
Our Favorite Eze Memories:
"When I say Eze has been like a family to me, it's more literal than you might think. I met my wife, Arlene, here at Eze. In the early 2000s, we had something called 'Cookie Time' where someone would prepare fresh-baked cookies every day at 4 pm, and folks would come to the kitchen in Boston and socialize. Arlene and I took full advantage of this time, and I credit that event for the start of our relationship (a lot of people put on weight during this time, and it was eventually reduced to once a week!)."

- Jeff Marston, Director of Software Engineering
"The general excitement across all teams when the first Eclipse client went live! An awesome buzz around the floor as the client completed their first live day in the system."

- Joe Sinkevich, Director, Eclipse Client Service
"I think one theme that has remained true at Eze since the day I first started was the work hard, play hard mentality. When I first joined Eze, I was part of a group of recent college graduates...it's amazing how resilient one is at that age. After a long week or day at work, we'd head over to Lucky's – the local watering hole – very late into the night. The next morning...every single person was there, bright and early, to start the day and didn't miss a beat. That sentiment was true during the early days of Eclipse – then called the IMS – where teams were working non-stop to meet the deadline for the upcoming demo. We celebrated hard after the demo and the next day we were back at it to work through the next chunk of features. It's a non-stop cycle. And the great thing about all of this is that our products continue to evolve to meet the market needs and solve REAL problems. We are not vaporware creating meaningless value that seems cool at the time...we are marching on a vision to make the industry more efficient and delight our customers."

- Stephen Ruane, Director, Product Management
"In 2014, Jose Rodriguez's entry in the innovation challenge was a desktop lamp that turned green if your PnL in Eze Analytics was > 0, red if it was < 0. Of course, an innovation like this could not be presented to the judges with the standard PowerPoint deck; it needed something that would do it justice. So, the four of us took time out of our busy workday to prioritize the thing that mattered most – making a video describing the merit of the lamp. This video has now gone down in Eze lore."

- Raya Gabry, Director, Product Management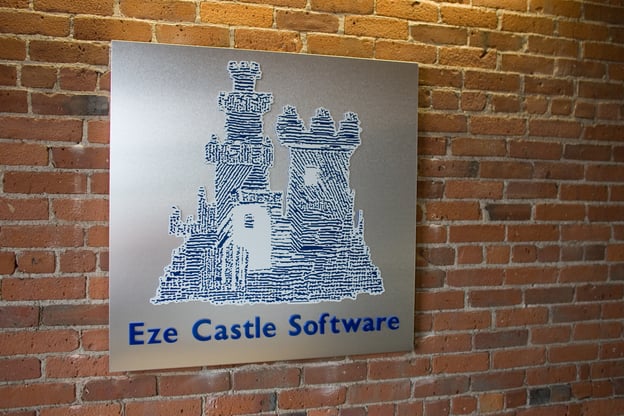 ​
The original Eze Castle Software logo.
To learn more about life at SS&C Eze, view our Community & Culture page or check out open positions here. To subscribe to our blog, click here, and to stay up to date on the issues that matter most in the investment management community, subscribe to our newsletters.