Today's global pandemic has caused unprecedented stress on markets across the world. We've seen low volatility prevail for quite some time. As the virus reached crisis level, volatility spiked like never seen before. Consequently, active trading has re-emerged as traders dust off the playbooks of their active past to survive today's quick up- and down-market movements.

Volatility can wreak havoc to the markets and cause lasting ripple effects on how traders trade. Most recently, the markets saw volatility reach extremely high levels over only a very short period. Incrementally more damage is done to the markets as volatility escalated at a velocity never seen before; until our most recent market events.
Navigating Volatility with Advanced Trading Tools
Over the past decade, and even more so over the last several years, we've seen a dramatic shift from active to passive strategies. But recent volatility is driving many traders to reassess and reconnect with their active-trading roots. Many active firms are successfully taking advantage of today's higher volatility, with the help of advanced trading and analytics tools. Today's roller-coaster volatility ride shines a spotlight on traditional traders who are equipped with the right tools.
What tools help traders navigate such volatile markets?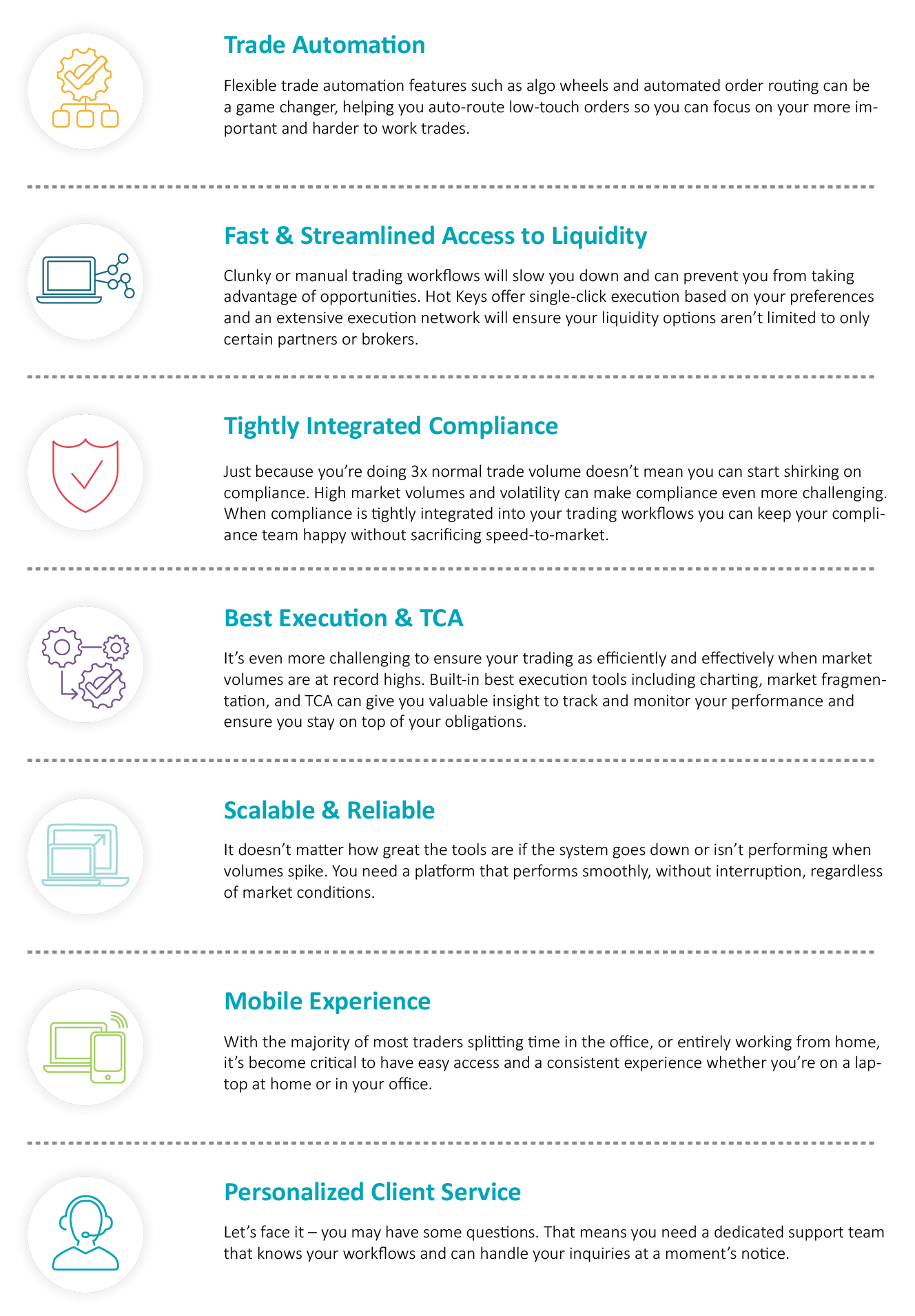 Sharp downturns are coming faster and hitting harder. Navigating volatile markets is all about speed, timing, and visibility. The right trading tools will enable you to see the markets, make decisions quickly, and execute them effectively. You need a solution that is built to handle today's complex trading needs and continually evolves to meet your needs in the future. Gears have shifted, and battle-tested active traders who are equipped with best-of-breed trading and analytic tools come out on top. Traditional active strategies cannot be sidelined. They maintain a high level of market necessity in order to capitalize on volatile markets.
Learn how you can navigate complex and evolving markets with Eze EMS Automated Trading: