For those of you who I have not yet had the pleasure of meeting, my name is Frank Maltais, and I am the Regional Director for APAC at SS&C Eze. After more than 20 years in the financial and investment technology industry, I came to SS&C Eze in April of last year — an interesting time for the company and the world. APAC was hit first and hard by COVID-19, and we remained in lockdown for several months in an attempt to contain the outbreak while following strict measures, including travel bans, social-distancing rules, and foreign worker restrictions.
Amidst the unusual market volatility and uncertainty, SS&C Eze recognized its 25th anniversary. We welcomed more than 200 new asset managers onto our platforms, including hedge funds, long-only, and institutional funds. We remained steadfast in our goal to continue providing the modern investment management solutions and exceptional expertise asset managers need to handle uncertainty and position themselves for future growth.
Suffice to say, my first year at the company was an eventful one. Having recently celebrated my 1-year "Eze-iversary," I wanted to take some time to reflect on the growth and innovation I have witnessed in the past 12 months.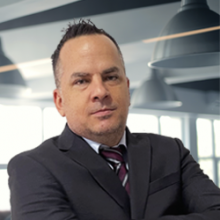 Frank Maltais
Frank Maltais is the regional senior director of APAC at SS&C Eze. He is responsible for overseeing new sales, existing client growth, and strategic business development for Asia. In his role, Frank works to connect firms in the region with the innovative products and superior service offered by SS&C Eze and SS&C GlobeOp. Frank joined SS&C Eze in April 2020 and is based in Singapore.   Frank has more than 20 years of experience in the financial and investment technology industry. Prior to joining Eze, he held various roles at State Street Bank, including regional director of the SSGX Software business for APAC and sales director for State Street's insurance segment. Previously, Frank also worked as head of presales at a leading investment data management solution vendor as well as managed his own investment and technology consulting company in London, UK. Frank holds an MBA from Webster University, USA, and is currently enrolled in MIT's Master of Data Science & Statistics Program. He is also the founder of an NGO which has built schools in Africa, South America, India, and Tibet.