Kathryn Mendes started at Eze in 2003. Throughout her time here, she has held several leadership positions within client service and, today, oversees SS&C Eze's Global Solutions organization, which serves as the primary point of contact for clients and provides product and technical expertise to answer questions, troubleshoot, and investigate, resolve issues.
In addition to leading the Global Solutions team, Kathryn serves as a leader for several of the company's cultural initiatives, including the Community and Culture Committee and The Network, SS&C Eze's women's network.
Throughout her time at Eze, Kathryn has witnessed and influenced significant growth and change within the organization. We are pleased to feature her in our leadership spotlight series and share with you some of what she has learned throughout her tenure at Eze.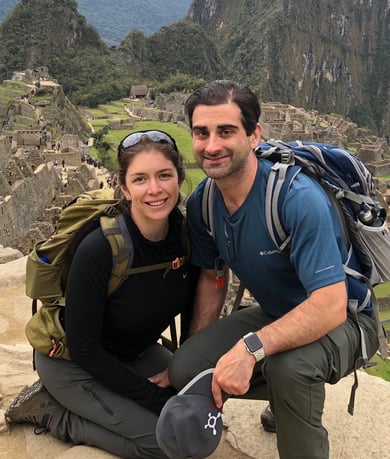 Kathryn and her husband hiking Machu Picchu, Peru.
What has kept you at Eze for the past 17 years?
When I started at Eze, there were only about 100 employees. Today, there are over 1,100. Despite this growth, the culture at Eze has maintained many of the qualities that first attracted me to the company.
Regardless of company size, our teams have always been passionate about creative problem solving. Whether the challenge is finding a solution to a business issue for our clients, maintaining culture through change, or, most recently, staying connected and continuing to deliver the high level of service and support our clients have come to expect from us while working from home, our teams of intelligent and motivated individuals are passionate about finding creative solutions. This creativity and passion are still two of the things that bring me to work each day.
Are you involved in any Committees or ERGs at Eze? If so, how has this involvement influenced you?

From early on in my career, being involved in the company community was important to me, and I continue to be involved to this day. When I first started at Eze, I joined the Community Service Committee. Today, I am involved in SS&C Eze's Community and Culture Committee, an iteration of the Community Service Committee that I'd joined when I first started.
I also participate in Employee Resource Groups, such as The Network, SS&C Eze's women's network. The members of these groups bring a passion and energy that is motivating and inspiring, and I enjoy participating in and advocating for these and other cultural initiatives. Doing so has allowed me to meet people from across the organization, make an impact in the community outside of Eze, and develop as a leader.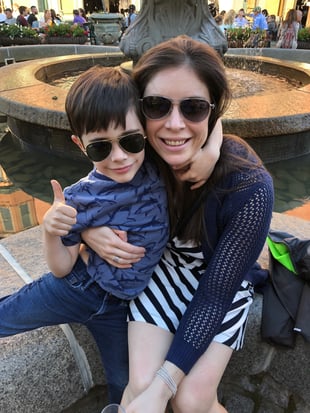 Kathryn with her son spending a day in Providence in Kathryn's home state of Rhode Island.
What is the biggest thing you have learned as a leader?
There are so many things that I have learned and continue to learn about leading. One is just that – the importance of learning and continuing to learn.
What makes me a good leader today does not necessarily make me a good leader tomorrow.
Leading requires constant growth and evolution, so it is important to always be listening and evaluating, and then adjusting your actions as a leader to adapt to the current situation.
What is it like working in an industry that is traditionally male-dominated?
I never saw something as primarily male or primarily female. I always believed I could achieve any goal I set my mind to and still do today. There are certainly challenges being a female in a traditionally male-dominated industry; however, I see that as a challenge that only motivates me more.
If you could give career advice to a woman early on in her career, what would it be?
Be confident. Have confidence in yourself and communicate that confidence through the way you speak and the way you carry yourself.
My other piece of advice is to seek out a network of allies, both male and female, in the industry. Look for people who will give you honest and trustworthy feedback — both the good and the bad. These allies will serve different purposes at different points in your career, from advice, to support, to advocacy. Listen to these trusted allies, heed their advice, and use it to help you grow.
Kathryn with her son and husband on vacation in St. Maarten.
To read the next post in this series, click here. To learn more about life at SS&C Eze, view our Community & Culture page or check out open positions here.
And to make sure you don't miss any of the upcoming posts in this blog series, subscribe to our blog.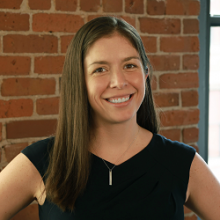 Kathryn Mendes
Kathryn Mendes is the managing director of global solutions at SS&C Eze. She oversees a team of more than 150 employees worldwide that serve as the primary point of contact for clients and provide product and technical expertise to answer inquiries, troubleshoot, and investigate and resolve production support issues. Kathryn joined SS&C Eze in 2003 and has held several leadership positions within client service. She is active in Eze's Mentor Program and serves as a leader on several of the company's employee resource groups, including the Community and Culture Committee and The Network, SS&C Eze's leadership development program for women. Kathryn graduated from the College of the Holy Cross, where she earned her B.A. in Mathematics.