COVID-19 Accelerate

s

Digital

Demand & T

ransformation

in Investment Management Industry
The Coronavirus pandemic has caused radical and uneven disruption to individuals' personal and professional lives around the world. At the center of the initial Coronavirus outbreak in early 2020, Asia took many precautions to curb the contagion, including travel restrictions, social-distancing rules, border controls, forced lockdowns, and remote work.
The longer-term effect of these precautions is still uncertain but has become a hot topic for businesses, policymakers, and employees. In the investment management industry, we have seen remote work and forced lockdowns accelerate trends in digitalization as COVID-19 reinforced the importance of a strong technology backbone and infrastructure.
Firms across APAC are looking to improve their digital infrastructure with modern, mobile technology that is accessible from wherever they are. We've also seen renewed concern surrounding cybersecurity and cyber resilience, especially for firms planning to continue with a decentralized environment or hybrid working structure post-pandemic. Reliable technology and a trustworthy provider have never been more important to ensure firms remain operational, productive, and secure.
Throughout the Coronavirus situation, SS&C Eze has helped clients navigate market volatility, maintain business continuity, and transition and operate effectively in a remote-work environment, and we are honored to have been recognized several times throughout 2020 for our commitment to delivering flexible, accessible, and secure solutions to the region.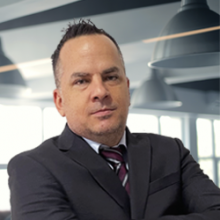 Frank Maltais
Frank Maltais is the regional senior director of APAC at SS&C Eze. He is responsible for overseeing new sales, existing client growth, and strategic business development for Asia. In his role, Frank works to connect firms in the region with the innovative products and superior service offered by SS&C Eze and SS&C GlobeOp. Frank joined SS&C Eze in April 2020 and is based in Singapore.   Frank has more than 20 years of experience in the financial and investment technology industry. Prior to joining Eze, he held various roles at State Street Bank, including regional director of the SSGX Software business for APAC and sales director for State Street's insurance segment. Previously, Frank also worked as head of presales at a leading investment data management solution vendor as well as managed his own investment and technology consulting company in London, UK. Frank holds an MBA from Webster University, USA, and is currently enrolled in MIT's Master of Data Science & Statistics Program. He is also the founder of an NGO which has built schools in Africa, South America, India, and Tibet.