Over the last three decades, a multi-billion dollar financial technology industry has emerged, led by the convergence of the asset management, outsourcing, and technology industries. As the asset management industry has grown, so has the need for comprehensive, one-stop solutions that help streamline investment processes.
Today, investment managers increasingly need to focus on investing and generating alpha while leveraging external resources to manage their operations. Investment managers are looking for more, from fewer vendors - choosing service providers that are flexible in their offerings and can scale up to meet their firm's needs today, and tomorrow. The combination of a low-margin environment and the need to handle a complex world of data processing, cross-asset trading and reporting has created a preference for integrated front-to-back office offerings – ones that have the ability to outsource both front-office technology and middle- and back-office service to the same provider. Now, more than ever, there is a need for comprehensive solutions that can handle multiple operational needs at once, minimizing costs and maximizing efficiencies.
This is the value proposition behind SS&C and Eze coming together: to provide the most effective front-to-back-office technology solutions, bolstered by excellent outsourced services. Because, let's face it: for many firms, it isn't just about using technology to make their operations more efficient – it's about outsourcing functions that aren't core to the business to ensure operational excellence throughout the enterprise. Investment managers want to focus on the business of running investments, and engage trustworthy partners to help them run their firms.
SS&C has been running investment operations for decades, and has proven to be a technology provider of choice: 40 of the top 100 global hedge funds use SS&C as well as 10 of the top 12 global asset managers. Eze has more than 25 years of experience serving up technology to manage the entire investment process to funds of all styles and sizes. Both of our cultures advocate for continuous investment in R&D, agile development methodologies, and focus on providing investment firms with everything they need to manage their investment process – so they can focus on investing.

Combining forces with SS&C puts Eze in the best position to supplement our award-winning technology with SS&C's award-winning outsourced services. We want to give our customers more than just great technology – we want to serve as an extension of their team, so they can focus on their core competencies. Together, we can enable our customers to outsource parts of their business, help them run their technology, optimize their operations, and deliver results.
Moreover, being part of the SS&C family enables us to deliver solutions that work with our customers' preferences. SS&C now counts more than 100 products across the investment lifecycle for all types of investment managers. We are continuously working on solutions that may bundle several of these offerings to deliver the best combination to suit our clients' needs, while continuing to work with third-party providers on integrations where it makes sense. Our goal is to deliver an ideal solution based on client preferences, and we will continue to provide an array of options.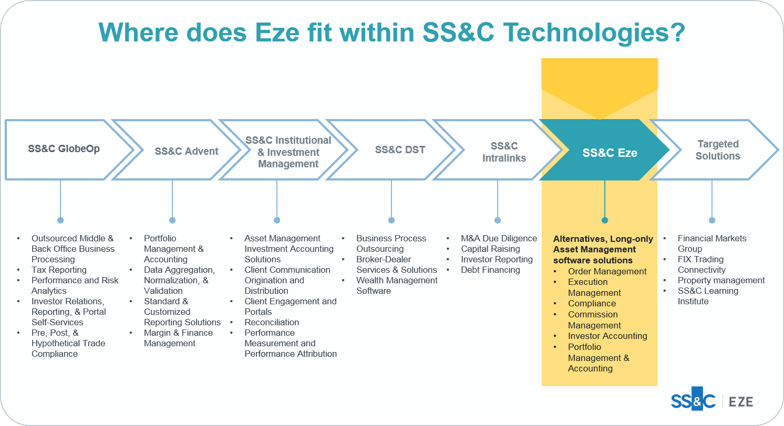 Talk to your rep today to find out what SS&C and Eze can do for you. To learn more about what's happening at Eze, subscribe to our blog.