Now, more than ever, long-only asset managers are facing unprecedented change. Alpha generation remains a challenge for many active managers, regulatory fragmentation is putting additional strain on resources, and new technologically-savvy entrants are shaking up the traditional investment management space. In response, many traditional investment managers are starting to reevaluate their models, and, especially, their technology. As Deloitte analysts wrote in their 2019 outlook report, "Continual operational improvement is one avenue for investment managers to alleviate the pressures of shrinking margins."
We are seeing a lot of such movement among our client base. In 2018, Eze made 15 replacements of investment technology platforms among long-only institutional asset managers. The reasons behind these replacements revolved around the need to revitalize their operational infrastructure and make it more efficient. Many of the systems we're seeing out there in the market are outdated and costly, and therefore are no longer competitive in today's market. It's not just about getting a top-of-the-line OMS – increasingly, it's about getting a comprehensive, front-to-back system and support to ensure you are in the best competitive position.
This is why SS&C Eze will be making a more focused drive in the institutional space this year.
Many of you probably know us as the go-to hedge fund IMS provider, and we've certainly been in that market for a long time. But we also have a substantial client base of hundreds of institutional investment managers we've worked with for years. All of them have come to Eze in the quest for streamlining their operations, realizing efficiencies, and creating better workflows.
For instance, in June, Vulcan Value Partners picked Eze to optimize their trading and compliance suite. Compliance is one of the biggest drivers of investment management technology spending; in fact Aite Group found that trade surveillance and monitoring technology continue to be prioritized in firms' compliance budgets. The robust compliance library within Eze OMS, coupled with tight integration of compliance within trading tools, is one way we are helping our institutional investment management clients stay ahead of the curve.
Other ways we've helped our clients modernize their infrastructure have been with Eze Investment Suite's advanced modeling capabilities and allocations processing set up to help firms manage large numbers of portfolios. Eze Investment Suite focuses on putting in place rigorous controls to ensure complex processes used by many of our long-only clients are reliable, secure and designed to mitigate risk.
In the last year, we've made several important capacity improvements to serve our larger clients, improving speed of processing and reducing operating costs across the board. We continue to work hard on these improvements, and are exploring synergies with other SS&C businesses to ensure our clients can take advantage of the best technology that fits their needs. Because it isn't just about the OMS – in today's market, you need reliable, cost-efficient technology to make your entire operation competitive.
To keep up with what's happening at Eze, subscribe to our blog.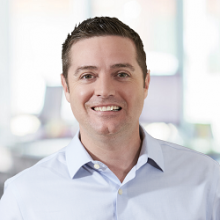 James Griffin
James Griffin is executive managing director, head of global sales for SS&C Eze. In this role, he's responsible for overseeing new sales, existing client growth, and strategic business development for SS&C Eze products worldwide, including SS&C Eze's flagship solution, Eze Investment Suite, as well as its cloud-native platform, Eze Eclipse.