SS&C Eze Introduces Inaugural Webcast in New EzeCast Series
SS&C Eze is pleased to introduce the inaugural webcast in our new series of SS&C Eze EzeCasts! The series will cover the latest SS&C Eze product features and enhancements, user tips, and getting the most out of your system, as well as industry insights, including what's hot in investment management technology and operations and updates on trends and topics to help you get ahead. We'll welcome some of the most knowledgeable names in the space – product, industry, and technology experts, SS&C Eze clients, and more!
On March 3, join SS&C Eze's Jenny Kim DeSmyter, managing director, sales strategy, for Leveling Up Your Front Office with Eze Eclipse, an overview of the latest Eze Eclipse features and functionality and how you can use them to get the most value out of your system.
The event will cover:
• Outsourced Trading Desk (OTD) workflows
• Quick Trade Entry solutions to help get orders to market faster
• New Fixed Income enhancements
• How to extend your platform with Eze Marketplace
• Leveraging Eclipse on the go with the Eze app
Date: Thursday, March 03, 2022
Duration: 20 minutes
To register, please select your time zone: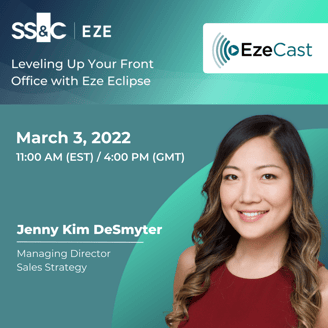 Coming soon – ask an expert! In the second webinar in SS&C Eze's EzeCast series, we'll be answering your questions on our technology and solutions, what's next for the investment management industry, and anything else you're looking to learn. Submit your questions here!