James Griffin
Executive Managing Director, Head of Global Sales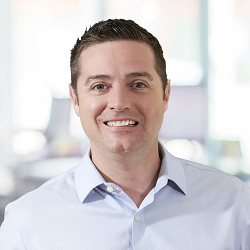 James Griffin is executive managing director, head of global sales for SS&C Eze. In this role, he's responsible for overseeing new sales, existing client growth, and strategic business development for SS&C Eze products worldwide, including SS&C Eze's flagship solution, Eze Investment Suite, as well as its cloud-native platform, Eze Eclipse.
James has more than 20 years of business development experience in the investment management technology market, 12 of which have been spent at SS&C Eze, where he has held numerous leadership positions, including Managing Director, Americas Sales and Director, North America New Business Sales.
Prior to his current role, James oversaw sales for Orbital Insight and he was also previously head of sales and business development for NorthPoint Solutions (now ACA NorthPoint). James started his career in the financial services industry with Bond Technologies. He is a graduate of The Kent School and received a bachelor's degree in history from Union College.