Eric Larson
Managing Director, Client Services & Managed Services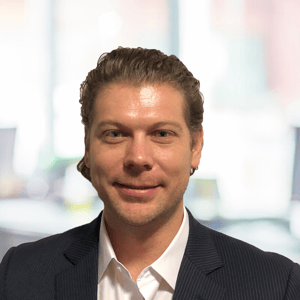 Eric Larson is the managing director of client and managed services at SS&C Eze. In this role, he is responsible for leading client services in India, EMEA, and APAC and overseeing Managed Services globally.
Eric has 15 years of industry experience and has spent much of his time at Eze on-site in America, Europe, and Asia, learning the ins and outs of alternative and traditional investment managers' businesses and leading over 400 implementations of Eze's OEMS, Eclipse, and PMA systems. Prior to his current role, Eric served as director of strategic operations and implementations, director of transition management, and director of Brazil consulting.
Notably, Eric is responsible for launching Eze's India Center of Excellence and the company's global Managed Services offerings.
Eric holds a bachelor's degree in business economics from Brown University and a master's degree in global business, global banking, and financial instruments and markets from New York University, which included six weeks at Singapore University. Fun fact, while attending Brown, Eric was drafted by the Toronto Blue Jays.