From Neuroscience to Finance: Bahar Ghaffari Leads by Example
Neuroscience may not be a traditional start to a career in investment banking and technology. But there is not a lot that is conventional about Bahar Ghaffari. Trained as a scientist, she moved into finance, then created a successful career for herself in an industry where women leaders are in the minority.

Today, Bahar is the managing director of EMEA & APAC sales at SS&C Eze. As part of our ongoing Female Leadership Spotlight Series, we talked to Bahar about her work, her accomplishments, and the lessons she has learned along the way.
Finding Her Place in Finance
Bahar graduated from university with a bachelor's degree in biological sciences and a master's degree in neuroscience and immunology. But at the time, the UK lacked funding for this type of research, leading Bahar to seek a different opportunity, ultimately leading her to a role at Citigroup.
On choosing finance, Bahar says, "If I was going to give up my passion, there needed to be a positive trade-off. A career in finance offered a new challenge, one that would be more lucrative than under-funded research."
After three years in wealth management at Citi, Bahar ended up working in equities in Hong Kong. Over the next 20 years, she would take on progressively more responsibility in investment banking and asset management, including roles in algo trading, trading, quant analytics, and sales.
Her career grew as the industry was evolving: She was at Lehman Brothers when it was acquired by Nomura and at Investment Technology Group shortly before Virtue acquired it.
As these acquisitions were happening, the organizations focused on the larger picture. Often, this meant that more detailed plans, especially for regions where they had less of a presence, were not an immediate priority. At that time, Bahar learned how to advocate for what she and her teams needed to be successful, a lesson that would serve her well throughout her career.
Eventually, she returned to London and joined Macquarie Group, first as head of execution analytics and rising to the global head of Macquarie Labs.
In addition to her professional accomplishments, Bahar is also a mother of two children.
SS&C Eze - New Challenge, New Opportunity
In February 2022, Bahar was hired as the managing director of EMEA for SS&C Eze, a role that leverages her vast experience and expertise.
"The early conversations I had with the senior team and other managing directors felt very genuine, committed, and down to earth. The team immediately made me feel comfortable, which translated into the autonomy I have in my role. The feeling of trust and respect is mutual."
Her first order of business was to grow the sales teams and enhance how they operated.
Based on her experience in sales, Bahar wanted to hire energized salespeople who brought in-depth knowledge to the sales process.
"I feel strongly that salespeople need to be cerebral. They should never just open and close a pitch and leave the rest to the technical team. Salespeople need to understand what problem they are solving for the client. That means not just understanding the technology, but the wider business context as well."
Finding and training this level of experienced sellers took work, especially in the new normal when side-by-side learning was not regularly happening. But Bahar hired two new salespeople, two new inside salespeople, and supported hiring two new people on the sales engineering team.
When hiring for any position, Bahar is reminded of advice she heard a while ago: "If you're the smartest in the room, you're in the wrong room." She says, "Don't be afraid of hiring people that are smarter than you."
Bahar also created a leadership committee for directors in EMEA. These meetings ensure all critical functions are aligned and that there are open lines of communication on topics beyond day-to-day operations, including culture and mentoring.
"We have got a solid team; our people are energized and highly motivated," says Bahar.
Recently, Bahar's responsibilities expanded to include head of sales for both SS&C Advent and SS&C Eze in APAC.
The Woman in The Room
In their ongoing research titled Within Reach, Deloitte reports that the proportion of women in leadership roles within financial services firms is currently at 24 percent. In the C-Suite, the number drops to just nine percent.
"At any investment bank I have ever worked, I have been well aware that I was often the only woman in the room," says Bahar. "At one point, I was one of only a handful of women among 400 men on the trading room floor."
Recent data supports the fact that women, like Bahar, are advancing to leadership roles in finance. By 2030, Deloitte estimates that the number of women in leadership roles will grow to 28 percent. Still, there is a long way to go to reach parity.
One factor that challenges women's progression is biology. "Many women reach a stage in life where they want to start a family," says Bahar. "They take maternity leave, but that leave impacts the progression of their careers. So, your peers move forward while you step back."
Research bears out her observation. "Restart programs" are among Deloitte's recommendations for moving women into leadership roles. These programs are created specifically to support women after they take a break from the workforce and are an important step that could help women maintain the momentum of their accomplishments and their earning power.
As Bahar notes, "A lot of times, I have had to work twice as hard as I might have – and even been twice as smart – yet I was still getting paid half of what the person next to me was getting."
Shaping the Futures of Female Leaders in FinTech
Bahar is focused on today but keeps an eye on what lies ahead for herself and for those who come after her – especially other women.
When working in Hong Kong, one of the companies she worked for had ten weeks of maternity leave. While that length of maternity leave is similar to the US, it is much shorter than what women in the UK and European countries receive.
Bahar believed that women in her company should receive more time. Armed with the data, Bahar fought for – and won – a change in the company's policy, expanding maternity leave to four months. This additional time was an important change for women in the organization who were starting a family.
In addition, Bahar shares her wisdom with the next generation of female leaders, mentoring sixth form girls. She says that these girls, ages 16-18, are interested in careers in STEM and finance and share their concerns about obstacles they may encounter.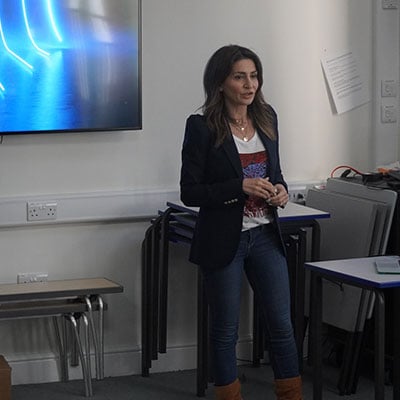 Bahar presenting to a class of sixth form girls
"These young women are bright and ambitious and ask tough questions. One of the sixth-form girls recently asked Bahar, "If you had to do it over again, what would you do differently?"
She replied, "I wish I had the confidence and the maturity in the first decade of my career as I did in the second. Early in my career, I would have been too insecure to rock the boat or say something to address inappropriate comments or behavior. I was young and worried about the repercussions to my career and my livelihood."
Experience has been a good teacher, and Bahar has learned well. It has given her the maturity and confidence needed to not only excel in her career but to share the wisdom of her experience. In doing so, these young women – and others – will face less obstacles on their path to success.
As for neuroscience, it is still an important part of Bahar's life. In 2000, she received her master's degree in clinic neuroimmunology and is currently pursuing another master's degree in psychology. Her learning continues.
To read the other posts in this series, click here. To learn more about life at SS&C Eze, view our Community & Culture page or check out open positions here.
Don't miss any of the upcoming posts in this blog series; subscribe to our blog.